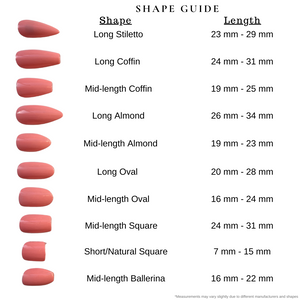 Clawfect Nails
Shape Guide
Regular price
$0.00
$0.00
Unit price
per
Tax included.
Shipping
calculated at checkout.
**NOT FOR SALE - SIMPLY MEANT TO BE USED AS A REFERENCE GUIDE FOR CLAWFECT NAILS RANGE**
This Shape Guide is intended to showcase the range of shapes I offer in press on claws. Lengths differ depending on manufacturer so please check this guide before purchasing.
I have done my best to ensure these shapes are all the same width range, but please allow for slight variations due to manufacturer.
If you're unsure, you may purchase a sizing kit for $5 or measure your own nails.
Measure your own nails
You can measure your own nails and customise your size via Order Notes at checkout. Please check out the below link for instructions.
https://www.youtube.com/watch?v=b3scrUK_3Ec

*Please note: I strongly recommend purchasing a sizing kit. Please select nail sizes carefully, as I cannot refund sets for incorrect sizing.
For custom sizing, please fill out the below within Order Notes section of checkout.
Left thumb: 
Left index finger:
Left middle finger:
Left ring finger:
Left pinky finger:
Right thumb:
Right index finger:
Right middle finger:
Right ring finger:
Right pinky finger:
We've got your back schweetie!
Contact me via direct message on my instagram "@clawfectnails" if you are confused or have any questions!
---